These days with all the ease to obtain guns even assault weapons the US is becoming an armed camp….it is becoming 'us against them' once again.
While the debate over gun rights rages….the population is quietly arming themselves…..not sure why other than some delusional bullsh*t.
For years now the militias like the Oath Keepers and so many more have been gaining members and arming themselves for the coming fight with the government.
If you are not sure just what these militia groups want or stand for then maybe this will help a bit….https://en.wikipedia.org/wiki/American_militia_movement
I remember back in the 60s when the Black Panthers were photographic with guns the press and country lost their minds.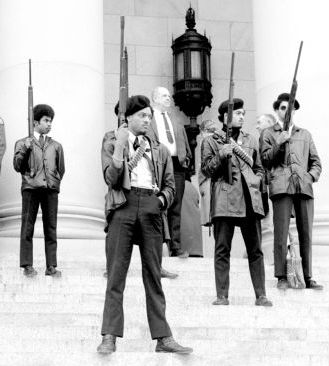 There was a concern that there would soon be a 'race war' in the US and of course the whites started arming themselves in case there needed to be a response to the coming race war….a war that NEVER materialized…it was all hype fed by the media and the NRA…..it help sell a bunch of guns.
And now whenever there is some sort of domestic chaos…..whether warranted or not……the sell of guns goes sky high because of some unfounded fear….helped by the media and politicians with their hands in the pockets of the NRA and the gun industry.
These militias formed as a block for any attempt of a 'takeover' of the government from 'them'……that depends on the minority that is in disfavor with the idiots.
These overweight in-bred morons are filmed constantly with the body armor and the AR-15s (a substitute for their penis) attempting to intimidate people in doing what they desire….
These groups became more and more visible with the rise of those pee brains in the Tea Party.
That explains one armed camp.
On the other side of this issue is the NFAC……a coalition of black/brown militia group…..
I have introduced the readers of In Saner Thought to the NFAC in more detail…….https://lobotero.com/2020/11/03/nfac/
These people joined up with the ever rising tide of excessive deadly force being used against black and brown Americans this group has stepped in as some sort of equalizer….
That is the second armed camp….
This camp will possibly grow bigger and bigger because of the interests that blacks are showing and the interest in owning guns….like their white counter parts…..
Black people are buying guns at a high record rate, partially due to fear and anxiety, according to The Guardian.

Black people owning guns have gone up 58.2 percent, according to the National Shooting Sports Foundation (NSSF) — and gun groups like the "Not F**king Around Coalition (NFAC)" consist of armed social justice advocates who demand justice for George Floyd and Breonna Taylor, visibly strapped with handguns. 

The Guardian also noted that gun-ownership amongst Black people spiked both when President Trump lost his reelection campaign and when Ahmaud Arbery, a Black jogger who died after he was inspecting an empty house, was gunned down.
https://thehill.com/changing-america/respect/diversity-inclusion/546454-gun-ownership-among-black-americans-is-soaring
A third and little known group is that of the SRA……a group founded to be a counter to the power and influence of the NRA……I have introduced my readers of IST to this group as well……https://lobotero.com/2020/05/10/who-will-confront-the-protesters/ …..they are not as visible as the first two…..but that could change at anytime.
I have expressed my concern about the runaway guns in this country…..and now we are dividing ourselves even further into armed camps.
Let us not forget the non-joiners or the 'independent' gun owners…..most are reasonable and would like to see changes in the gun availability and most have not chosen sides in this divide…..but that could change any day.
After the breach of 06 January Americans are realizing that these are dangerous times…..and sadly there is no end in sight.
Dark days are a head of us.
Can we survive as a nation?
It is true that Americans are resilient…..but can we stop this spiral?
Thoughts?
I Read, I Write, You Know
"lego ergo scribo"